MISSION
OUR GOAL
Our goal is to find a need and meet it and find a hurt and heal it according to the Scriptures.
CHRISTIAN CHURCH HISTORY
The New Testament Church was called into existence in A.D. 30, on the first Pentecost after the resurrection of Christ. We read about its doctrines in the Acts of the Apostles. It held true to apostolic teaching for a few hundred years but was eventually diluted with false doctrine by judaizers (Jewish teachers who taught that it took more than just Christ to be saved, etc.) and Paganistic ideals. Many centuries of ignorance and superstition passed becoming intertwined with the teachings of Christ and the Apostles . In the early part of the sixteenth century Martin Luther broke the shackles and gave unto the world the open Bible, many Christians had been and have been martyred for less. John Calvin advocated the Divine Authority of God. They were the first of many to take a stand agiant unscriptural teaching and false doctrine. People began inquiring for the old paths, while the Churches were doing good and taught Scripture, they were weakened by their division. Early in the nineteenth century, in all denominations there could be found those who believed that Christians ought to unite and lay aside the traditions and doctrines of men and return to the old paths, the Word of God. Among these were Thomas Cambell and his son Alexander. They aimed not to start another church but to call the people back to the church of the New Testament. We stand on the Word of God alone, where the Bible speaks we speak, where the Bible is silent we are silent. We believe that to understand where the Bible speaks and is silent must be interpreted through the Holy Spirit. We believe in Christ alone for Salvation.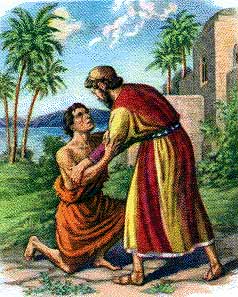 Pastor, Roger Jarboe
Music Director/Clerk, Catherine Jarboe
Music Leader/Treasurer, Elaine Early
Youth Leaders, Dewayne & Mary Robbins
Sunday School Superintendent, Donna Davis
Elders and Deacons: Roger Jarboe, Buck Preston, Bob Davis, Tony Early, Dewayne Robbins, James Vandgrift

EMAIL US!
Links to Other Sites